You know what I like to write about?  My life and all the crazy that goes with it.  So it's a bummer when I feel like I shouldn't write about something because  it's too boring for you to read.  Case in point: I'm on a restricted eating plan right now.  No sugar (NONE!  GAH!), no grains, no legumes, no dairy.  I certainly  don't want to be one of those people who constantly talks about their restricted eating, but it has consumed a fair bit of my energy over the past week.  It's all I've got, people!  Cut me some slack!
Below I've listed the stages I experience when going on a "diet." (Man, I hate that word.)  Maybe some of it will resonate with you too?
The 7 Stages of Restricted Eating
~1~
Rock Bottom
You've finally hit rock bottom.  You realize that whatever you're eating is not working.  What put you over the edge?   The overly snug fit of your fat jeans?  The 17th bathroom trip after dinner?  The impressive fit thrown by your child after you take away his stash of moldy sugar cubes?  Whatever it was, it likely sent you on a desperate internet search with key words like "food that makes me fit in my clothes," "IBS diet easy," or "how to break a toddler sugar addiction."
~2~
Psyching Up
Via the mysterious combined magic of Google and Facebook, you now have a diet in mind.  You make a shopping list, clear out your fridge and pantry of offending foods, and make a set-in-stone meal plan.  The more you read about this diet, the more you know that this is "the one."  The one that will break all your bad habits and miraculously heal all that is wrong with your body and your life.  (Yes, it is that powerful.  Anyone who says differently is just a negative voice that must be silenced.)  You are the master of your destiny, and a force to be reckoned with.
~3~
Obsessive Compulsive Dieting
The diet is on.  Your attention to detail is astounding.  You have meals and snacks planned down to the very last moment of every day, and you're never far from Google or your diet bible (i.e. whatever book you happen to be using as your reference point)  so as not to trip yourself up.  You never deviate. Eating out is either planned with excruciating  caution or avoided altogether.  Your family  may refer to you as Diet Rain Man, but you know this is what it takes to make it work.
~4~
Pride
(goeth before The Fall)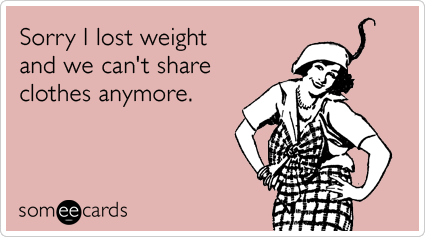 You've got this.  It's becoming second-nature now.  You no longer need the minute-by-minute plans.  You finally feel a rhythm to this new lifestyle and you're liking it.  As of this moment, you can't imagine a time when you would even want to go off this diet.  Symptoms of this stage include becoming insufferable on Facebook, posting near-constant recipes and/or success stories related to your plan.
~5~
Psychosis
Somewhere between 30 seconds and 2 days of reaching stage 4, you move into stage 5: Psychosis.  This diet is making you insane.  Why did you ever think this would work?  It's just not realistic!  Who can live like this?  Certainly not you!  I mean, you haven't even lost a pound yet, right?  Your rock bottom causes now seem to be getting WORSE.  Ugly cries and fist-shaking toward heaven are two possible symptoms of this stage.
Note: you may repeat the cycle of stages 4 and 5 several times an hour for several days before moving on to Stage 6.
~6~
The Fall
You've lost all touch with your OCD from Stage 3.  It's late afternoon (you stayed out for far longer than planned) and now have nothing to eat but really. must. eat. now.  You are showing symptoms of advanced hunger-anger, or "hanger"  when your eyes zero in on a Forbidden Food.  It's just one croissant.  No big deal, because remember Stage 4?  You can totally just have one and jump right back into the perfect combination of foods.  (If someone steps between you and your chosen cheat food, heaven help him.)
Thanks to your desperation, you wolf down the flaky, buttery goodness of that croissant, hardly tasting its delicate perfection.  Before you know it you're covered in crumbs and shame with little to show for it.
~7~
Back in the Saddle Again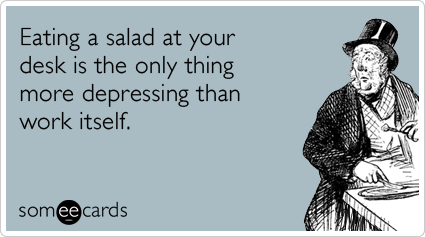 Somewhere between 3 seconds and 2 years  after The Fall, you resign yourself.  It's time to get back in the weary diet  saddle, this time with a little less crazy, and a little more willpower.  You may not like it, but it's what you're doing, so you suck it up and make another meal plan.  While your far-fetched Google search for "paleo croissant recipes" yields little fruit, you at least know what to expect this time around.  You know that Stages 4-6 may be inevitable, but you also know that you can get up and dust yourself off after being knocked down.
~The Elusive 8th Stage~
Normalization
I've been told that there are some people, somewhere in the world, who finally reach the stage of a diet where it actually does become  a "lifestyle."  Eating isn't stressful and they intuitively know what will work and what won't.  I personally have never reached this stage, so I can't verify its existence, but the idea of normalization does give me hope.  A slim, wary hope, but hope nevertheless.
Visit Jen at Conversion Diary for more fun takes of the seven quick variety.