Do you know and love a Catholic?  Birthdays coming up?  Planning ahead for Christmas? Check out some great swag, recently snagged by moi.
~1~
For men and women: Catholic jewelry
And no, I'm not talking about the pink plastic rosary your toddler wears at Mass.
Check out what Kevin and I got from On This Day Designs: a men's crucifix and a miraculous medal necklace for me.  (I don't see my necklace in their shop right now, so maybe I got lucky and it's a one of a kind. :)) I really like how unique and different their styles are.  They have beaded jewelry, woven jewelry, and even some sterling silver.  There are a ton of different styles and from what I saw at their table, the items were very well made.
~2~
For kids: videos by CCC
Looking for something to watch during the hot summer afternoons that isn't Dora the Explorer or something equally terrible? Check out these videos by CCC of America! 
I've seen these around the internet and wanted to buy them but hadn't yet justified it. A couple weeks ago, sweet Mari from CCC contacted me and asked me to review them for you, so I jumped right on it.  I received the videos on Francis: the Knight of Assisi, Francis Xavier and the Samurai's Lost Treasure, and My Secret Friend: a Guardian Angel Story in exchange for an honest review.  So here it is:
The kids (ages 9, 8, 5, and 4) and I all enjoyed them a lot. (The baby has no opinion. The DVD not being edible makes her pretty much uninterested.)  The story lines were interesting and engaging, and best of all, my kids learned about the saints.  These would make great gifts from godparents or grandparents, or as a supplement to saint studies in your homeschool. My estimation is that they're geared at children between the ages of 3 and 8 years old, but kids younger or a bit older certainly might enjoy them as well. There are more than a dozen videos.  Make sure to check them all out today.
P.S. Just for you, dear readers, CCC is offering 30% your order off until the end of July!  Hollah!  Just enter the code CCCBLOGGERS at checkout and you'll be all set.
~3~
For homeschool moms: a planner
If you've been around awhile, you know my deep and abiding affection for Kelly Mantoan.  She's a hilarious writer, a superhero mom, and now, an accomplished speaker and author. I picked up her planner at Edel as well, and I'm enjoying it so much.
My favorite aspects:
Kelly's hilarious and insightful remarks every week.
Blanks dates so that if I skip a week I don't waste any paper.
Graph paper.  My handwriting is so crooked. Brilliant!
You can view sample pages and then pick up a spiral bound copy or a printable PDF version at Kelly's blog, This Ain't the Lyceum.
~4~
For men: Catholic Beard Balm/Barbatus Beard Balm
I bought this beard balm for Kevin on Father's Day as sort of a joke. I'm not a perfume person and Kevin isn't an aftershave kind of guy, but the chrism scent intrigued me, and the clever website made me chuckle, so I went for it.
Ladies, I love it.  The chrism scent is the only one I've tried, but really like the way it smells.  Not too strong and distinctly holy. 😉 If your husband is as courageous as St. Augustine says, pick some up today.
~5~
For the whole family: Rosary Quiet Books
This last one is the only gift I haven't personally tried.  My hope is that by sharing it here, my mom (or someone else who is super crafty) will make these for my kids.  Which in turn will benefit me via quiet prayer/Mass times. See? Gifts for the whole family.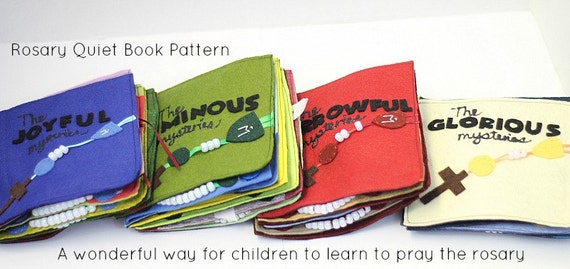 See how adorable?  Nancy from Do Small Things With Love sells the patterns in her Etsy shop for just $6! You seriously cannot beat that price.  Maybe I'll even purchase the pattern and have my big girls make them for the little kids! Art lessons for September, check!
That's all I've got today, friends.  Have any gift suggestions for Catholic loved ones?
Make sure to visit Jenna @ Call Her Happy for more 5 Favorites.  Look at her fantastic topic this week!