I have a few things on my mind, a couple minutes and -wouldn't you know it? – there aren't any easy list post link-ups today.  Oh wells.  I'll throw in someecards to make it worth your while.
ONE:
My laptop cast itself upon the hard cold tile floor when it heard about the WordPress App.  "As if you don't already spend all your free time with your iPad," it wailed.  "Blogging was the only time I ever got to see you!"
Fine, not really.  The Honey Badger got to it.  Less poetic, but certainly more plausible.
How will I go on?  (This blog brought to you by my amazing in-laws who -yet again- came to the rescue by lending us their old computer.  Thanks, Papa and Mimi!)
TWO: 
We leave for New York in 10 days.  I am. so. excited.
And scared?  Did I mention it gives me panic attacks (not real ones, but they feel real enough to me) when I get on a plane without my children?  Or whenever any part of my family is far away from me?  Last time (4 years ago) I called my dad and irrationally made end-of-life plans and made him promise to raise my children on their homestead in the mountains.
I never said I was normal.
It doesn't help that we're taking a red-eye.  I wish the in-flight alcohol was free.  That flight is going to get expensive.
THREE:
I'm an auntie again!  My brother Eli and his wife Jamie had their third child, Liam Stephen, early this morning.  He was 9 days past his due date, and  a whopping 9 lbs 1 oz.  May not seem big to some, but my sister in law is 4'11".  So, yeah.  Big baby, rock star mama.
As soon as I get clearance from the tower to share a photo I will.  And maybe I'll get to sneak a peek up there when I drop the kids off at my parents' house before our trip to New York.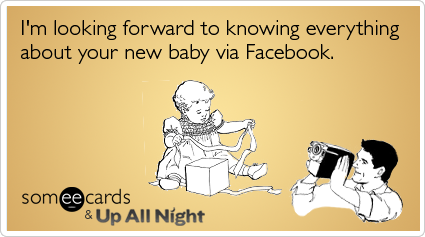 No, really, I am.
For those keeping track, that's 13 Spencer babies in less than 8 years (Gianna is the oldest).  My other sister in law Vanessa is due with #14 in February.  Spencer family:  Single-handedly (and happily) repopulating Catholic churches across America and beyond.
FOUR:
Yesterday's post, in case you missed it: Win Friends and Influence People on Facebook
FIVE:
This one is for Kevin.  It makes him laugh every time:
Have a great Tuesday!