I may have mentioned one time or a thousand that Instagram is my most favorite social media.  It's just so… pretty.  I can scroll through my Insta feed and feel happily inspired and rarely does it give me any stress whatsoever. (Ahem. I'm looking at you, Facebook and Twitter during election years.)
Guess what I have for you this week?!  It's delicious Instagram news. There's a group of Catholic artisans who've joined together to give you weekly eye candy.  Check out Zelie & Co. right now. Do it.  You won"t regret it, and I'm guessing you'll follow too.
Not only are these women talented but they're giving and loving too.  On February 9th (Fat Tuesday!) they're giving of their time and talent to raise money for worthy Catholic non-profits. It's an auction, which just makes me super duper excited about the whole thing. Today I'm lucky enough to get to share with you a new-to-me talent, Jen of Faith and Fabric.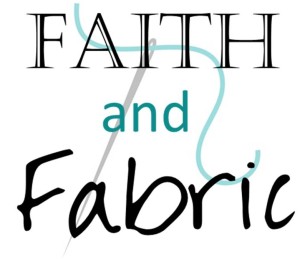 Jen Frost is a Catholic quilter and crafter who evangelizes through fabric. She's a pattern writter, quilt designer, and book author. When she's not in front of her sewing machine, she can be found at the beach with her husband and son, toes happily buried in the sand. She writes and quilts each week at Faith and Fabric and invites you to join in the fun every Monday at 12pm PST.
Lent is a time to pray, fast, and give. Take a look at what Jen has made for one generous bidder:
Up for auction is a three piece set: something for you, something for the home, and something for the family. For you we have a beautiful handmade scarf. Measuring eight feet in length, this lacy design is ideal for a double or triple wrap and dresses up the most simple top! For the home is a table runner; made from 100% cotton fabrics, this extra-long runner brings the colors of Lent to your table and serves as a reminder of the season. For the family is a Lent activities book, filled with 12 ways to celebrate Lent and Easter with your family.  Jen's set is valued at over $100!
Jen and I have teamed up (with her doing most of the heavy lifting by, you know, creating all the gorgeous crafts) and chosen Catholic Relief Services as our designated charity. A few neat facts about CRS, from their website:
While it is an official agency of the church, CRS provides aid on the basis of need, not creed.
The faith that shapes the agency influences the manner in which CRS provides aid. A deep love for and commitment to the beneficiaries is apparent in the work.
CRS is in 101 countries, serving more than 85 million people. Through the global Catholic Church, CRS is afforded access to remote locations where no other organizations serve, yet where some of the world's most vulnerable populations live.
In 2014, 92% of revenue was spent on programs that benefit the poor overseas. About 35% percent of our programming focuses on emergency relief and recovery.  Once we meet immediate needs for food, water and shelter, we transition to rebuilding and reconstruction, supporting the survivors of natural disasters and chronic emergencies in reclaiming their lives.
In the U.S., CRS carries out the social mission of the Church with 8.5 million Catholics in 14,337 parishes, dioceses and schools.
Here's how you can join in the auction fun:
Set yourself a reminder for next Tuesday February 9th; the auction begins at 9 am CST.
Wake up on February 9. Eat some candy because it's Fat Tuesday.
Head over to Instagram and check out all 10 of the available auction sets at Zelie & Co.
Make some pancakes if you're British or pick up some paczki if you're Polish. Hey, it's Fat Tuesday!
Start bidding!
Put some jambalaya in the crock pot, because: Fat Tuesday.
Periodically check your bids throughout the day. Bidding goes until midnight CST.
Eat more candy, play some games with your family, make glitter Mardis Gras masks.  Whatever floats your Fat Tuesday Boat.
Wake up Wednesday morning fully prepared to get going with Lent. Find out you won a Zelie & Co auction item!  Jump for joy! (But don't get too crazy because: Ash Wednesday.)
That's it, folks! Participation will be fun and easy, and all proceeds go to awesome charities. Let me know in the comment box if I left anything out.
#ZelieCharityAuction #ShopZelieandCo