Welcome to the first ever 3 Reasons I Love Catholicism link-up!  I'd love to hear what YOU love about Catholicism, either in a blog post, the comments section below, or on the California to Korea Facebook page.  For more info on the inspiration for this link-up, check out Calling All Catholic Bloggers!
~1~
The Crucifix
Giotto di Bandoni
The symbol of the crucifix seems macabre to some, but not so to me.  I'm a visual person, so it helps me remember Christ's sacrifice, humanity, death, more so than just the symbol of a cross.
~2~
St. Thomas Aquinas
from Wikimedia Commons
I love him for many reasons but especially for this:
 "Faith and reason, while distinct but related, are the two primary tools for processing the data of theology. Thomas believed both were necessary — or, rather, that the confluence of both was necessary — for one to obtain true knowledge of God."- From Catholic.org
~3~
The Art and Imagery
I can't find the title and source of this anywhere.  Help?
God loves us so much that he created an alluring and mysterious world for us!  Made in His image, we have the desire to create beauty too.  I love art of all kinds, but religious art moves me because someone else was moved by God to make something beautiful for Him and for us!
Your turn!  What are your 3 Reasons?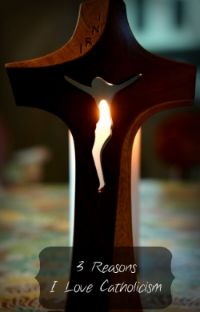 If you so desire, you can copy and paste the HTML below to put the image above as button within your post.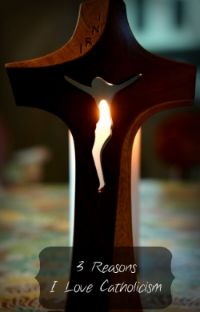 The link will remain open until the end of the month.  Add your post anytime before then.
< >